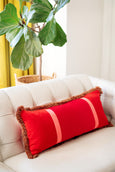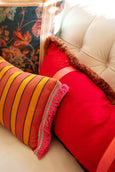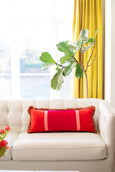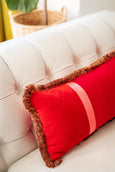 CHERYL (sold out)
$271.00 USD
Cheryl, or Cherry Pie to most, is a ray of positivity and a bolt of energy. She is a great connector of people, and everyone wants to be her friend. She is thoughtful, spontaneous and really a lot of fun. She lives through her body, and movement has always been central in her life, from baton twirling, to professional cheerleading and Zumba. She's a devoted wife and daughter, and would do anything for the people she loves. There's nothing better than a night out with Jom – just one more – because you know you're going to have a good time.
Cheryl's Details 
Dimensions: 30.5 inches x 12.5 inches
Composition: red velvet, cherry red poly blend, with wide pink gros grain ribbon and trimmed with multicolour brush. Metal zipper.
Care Instructions: dry clean only
HAND MADE IN TORONTO                                                                                         
Please note that cushions are sold with a down filler. If you would prefer a hypoallergenic alternative, please get in touch.   
Need help envisioning this cushion in your space? Inquire about our design and styling consultations.