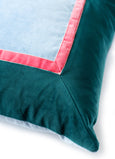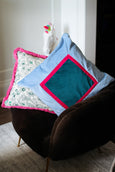 ARTHUR (sold out)
$222.00 USD
While he was named after the legendary king, Arthur actually identifies more with the kindly cartoon character. Studious and polite, patient and thoughtful, Arthur is the friend you can count on. He pays his bills on time, has memorized all the flags of the world and reads The New Yorker cover to cover every week. If marooned on a desert island, his top five desires would include: salt water taffy, a telescope, Samuel Pepys' diary, a good pen & paper, and all the Monty Python skits on tape.
Arthur's Details 
Dimensions:  22 inches x 22 inches
Composition: combed velvet with velvet ribbon trim. Metal zipper.
Care Instructions: dry clean only
 HAND MADE IN TORONTO                                                                                         
Please note that cushions are sold with a down filler. If you would prefer a hypoallergenic alternative, please get in touch.   
Need help envisioning this cushion in your space? Inquire about our design and styling consultations.