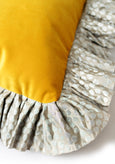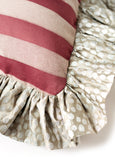 ANASTASIA (sold out)
$215.00 USD
Everyone wants to be Anastasia's friend. She's fierce, feminine, kind and really a lot of fun. She has bright eyes and an infectious, cackling laugh that carries through restaurants and parties. She loves lists, spicy curries, art of the Vienna Secession, fast boats and When Harry Met Sally. And while she has a keen intellect, Anastasia is the first to admit that she can be a bit flaky and often has several projects on the go. She's guided by passion, not driven by money and generally lives her life with the belief that things will work out as they should.   
Anastasia's Details 
Dimensions: 20 inches x 10 inches (excluding ruffle) 
Composition: cotton/poly blends with a metallic poly ruffle. Metal zipper.
Care Instructions: dry clean only
 HAND MADE IN TORONTO                                                                                         
Please note that cushions are sold with a down filler. If you would prefer a hypoallergenic alternative, please get in touch.   
Need help envisioning this cushion in your space? Inquire about our design and styling consultations.