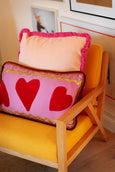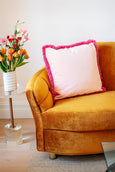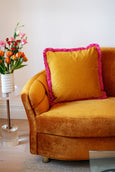 EDNA (sold out - other colourways available)
$222.00 USD
Edna has a cackling laugh and a big heart. She's the executive assistant to a high-powered banker who appreciates her quirks and values her loyalty. She lives with her best friend, Mary Beth, and their fish Goldie. The friends moved in together years ago, mostly out of convenience, but have become inseparable companions. They work in the same office and every Friday night they get their nails done – always followed by Bellinis at their favourite bar. They contentedly spend most of their time together, except for a few late night hours when Edna, a night owl, stays up and buys whatever is being offered on HSN.
Edna's Details 
Dimensions: 22 inches x 22 inches
Composition: peach velvet, ochre velvet with bubblegum pink cotton brush fringe. Metal zipper.
Care Instructions: dry clean only
HAND MADE IN TORONTO                                                                                         
Please note that cushions are sold with a down filler. If you would prefer a hypoallergenic alternative, please get in touch.   
Need help envisioning this cushion in your space? Inquire about our design and styling consultations.