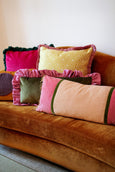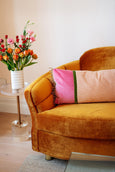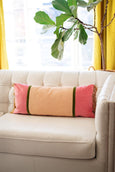 PENELOPE (sold out)
$271.00 USD
When you think of Penelope, conjure the image of Christie Brinkley in National Lampoon's Vacation. She loves frosted pink lipstick, fast cars, and adventure. She's a natural blonde and a natural babe. Growing up in southern California, she took to the coastal lifestyle immediately, learning how to surf and swim at a young age, eventually becoming one of the only girls in local surf competitions as a teenager. She left for Europe in her early twenties, working as a model for top designers. However, she quickly tired of that lifestyle and returned to her beloved California where she founded a notable animal sanctuary, Pen's Friends.
Penelope's Details 
Dimensions:  33 inches x 14 inches
Composition: peach striped textured velvet, bubblegum pink velvet, with moss green velvet ribbon, trimmed with gold bullion. Metal zipper.
Care Instructions: dry clean only
HAND MADE IN TORONTO                                                                                         
Please note that cushions are sold with a custom made down filler. If you would prefer a hypoallergenic alternative, please get in touch.   
Need help envisioning this cushion in your space? Inquire about our design and styling consultations.