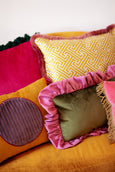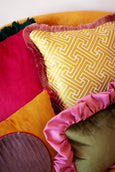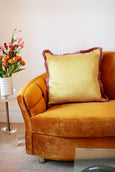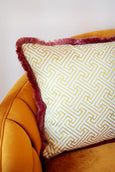 SANDRO (sold out)
$310.00 CAD
Sandro smells really good. He's effortlessly handsome – often mistaken for George Clooney – but couldn't care less, which only makes him more charming. He lives in white linen, is a generous tipper, and is incredibly humble. As a young man he was a decorated discus thrower – he medalled in the 1984 Olympics – but doesn't like to talk about it. He comes from a long line of skilled builders and architects who have made it their purpose to restore and preserve historical structures, a cause that Sandro continues. When he's not working on a project, he's always on his beloved boat – the Athena – sailing from one small Mediterranean port to the next. He often picks up friends along his way, and can never resist the stray cats who hang around the ports. They have their own cabin on Athena, and every morning Sandro catches them fresh fish.
Sandro's Details 
Dimensions: 22 inches x 22 inches
Composition: gold and ivory maze poly-silk blend, with mauve brush trim. Metal zipper.
Care Instructions: dry clean only
HAND MADE IN TORONTO                                                                                         
Please note that cushions are sold with a custom made down filler. If you would prefer a hypoallergenic alternative, please get in touch.   
Need help envisioning this cushion in your space? Inquire about our design and styling consultations.