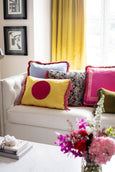 SYBIL (sold out - other colourways available)
$222.00 USD
Sybil, a close cousin of Louise, was a soap star as a young woman. She played the role of Felicity Cantwell on The Young and the Restless, but her contract was abruptly terminated when they suspected she was taking parts of her wardrobe home. She now works happily at a Lancôme counter where her eccentricities are celebrated. She loves a dramatic eye and the occasional dramatic outburst – though she always has an interesting justification for the situation. Sybil has a very loyal customer base that appreciates not only her stories of television glamour, but also how beautiful Sybil makes them feel. She loves to end her days curled up on her velvet sofa with her cat, Elton, a few wine coolers and reruns of Frasier.
Sybil's Details 
Dimensions:  22 inches x 13.5 inches
Composition: hot pink combed velvet, yellow striped silk-satin blend, black and white rope trim, and rose bullion at the edges. Metal zipper.
Care Instructions: dry clean only

HAND MADE IN TORONTO                                                                                         

Please note that cushions are sold with a custom made down filler. If you would prefer a hypoallergenic alternative, please get in touch.  

Need help envisioning this cushion in your space? Inquire about our design and styling consultations.