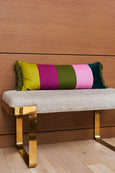 ANDREAS (sold out)
$286.00 USD
Andreas has lived a storied and nomadic life. From a young age he knew he wanted to travel, not simply for vacation, but for extended periods so he would be truly immersed in a new culture. He studied at hotel school in Switzerland, and has worked as a concierge ever since, quickly realizing his goal of attaining Les Clefs d'Or. Andreas has been posted in eleven different countries, and is currently stationed in Uruguay. He loves his colleagues and his guests - for the most part. He recently had a horrid experience with a very unruly celebrity who stayed with their entourage. He has remained completely tight-lipped when peppered with questions regarding the incident, only admitting that several pieces of furniture were replaced following the stay.

Andreas' Details 
Dimensions: 32 inches x 13 inches
Composition: panels of chartreuse cotton, grape linen blend, olive cotton, sunset pink cotton blend and forest velvet, the edges trimmed with moss bullion, with a grape linen blend reverse. Metal zipper.
Care Instructions: dry clean only
HAND MADE IN TORONTO                                                                                         
Please note this cushion is sold with a custom made vegan hypoallergenic insert. If you would prefer a down insert, please get in touch.   
Need help envisioning this cushion in your space? Inquire about our design and styling consultations.