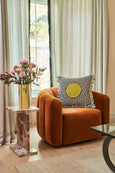 BALTHAZAR
$264.00 USD
Most who know Balthazar would consider him to be the consummate New Yorker. He was raised in the city and still resides in an apartment originally owned by his grandmother - an art-filled Art Deco gem that he has updated respectfully, meticulously - and only when absolutely necessary. He shares the space with the loves of his life; his Dalmatians Jean-Paul and Louise. The trio is a fixture of the neighbourhood and is a frequent source of delight for onlookers as they sport coordinated looks daily. Balthazar spends a few hours each day attending to the affairs of his family's paper products business, but always looks forward to 5:30pm for his standing date with Bunny - his next door neighbour of twenty years. They share a bottle of Montrachet and gleefully gossip about other tenants.
Balthazar's Details 
Dimensions: 22 inches x 22 inches
Composition: black and white Greek key cotton applied with a textured citron blend circle trimmed with forest satin rope, the edges finished with vintage cream and green tassel trim, the textured citron blend continued on the reverse. Metal zipper.
Care Instructions: dry clean only
HAND MADE IN TORONTO                                                                                         
Please note this cushion is sold with a custom made vegan hypoallergenic insert. If you would prefer a down insert, please get in touch.   
Need help envisioning this cushion in your space? Inquire about our design and styling consultations.