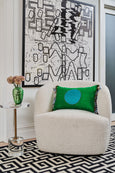 BASIE
$241.00 USD
Basie moved to New York for the reason many do: to be in the theatre - and more specifically to be the next Patti LuPone. She took a job at a beloved neighbourhood bar to support herself, and staff & patrons alike were immediately besotted. They adored Basie's lilting laugh, the dramatic retellings of recent auditions, and her thematic wardrobe choices which highlighted one of her favourite cinematic characters each day, from Adriana of The Sopranos to Elise Eliot of The First Wives Club. Over time and after many mediocre auditions, Basie realized that the bar had become her actual love, and was the ideal outlet for her creativity. She began hosting theme nights and creating cocktails, including the infamous 'Basie's Bleeding Heart' - an alluring mix of elderflower gin & aperol that is elaborately garnished with fresh flowers. While she continued auditioning, Basie realized she was really doing it for the stories. She forgot about Patti; she was too happy being Basie.

Basie's Details 
Dimensions: 22 inches x 14 inches
Composition: raw kelly green silk applied with a turquoise linen circle which is trimmed with fine blue, black and white ticked satin cord, the edges finished with olive velvet ribbon and ice blue & soft white tassel trim. The turquoise linen continued on the reverse. Metal zipper.
Care Instructions: dry clean only
HAND MADE IN TORONTO                                                                                         
Please note this cushion is sold with a custom made vegan hypoallergenic insert. If you would prefer a down insert, please get in touch.   
Need help envisioning this cushion in your space? Inquire about our design and styling consultations.