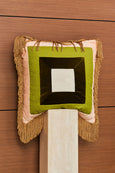 CONNAUGHT (sold out)
$301.00 USD
Connaught once sat next to Eugene Levy on a flight from Denver to Rome. The actor showed him a fantastic card trick and shared hilarious stories from his days on SCTV. When they arrived in Rome, Connaught treated Eugene to dinner and they've remained friends ever since.

Connaught's Details 
Dimensions: 24 inches x 24 inches
Composition: concentric squares of cream watered silk, olive velvet, moss linen and textured peach velvet with a goldenrod velvet reverse, the edges finished with exaggerated antique gold bullion. Metal zipper.
Care Instructions: dry clean only
HAND MADE IN TORONTO                                                                                         
Please note this cushion is sold with a custom made vegan hypoallergenic insert. If you would prefer a down insert, please get in touch.   
Need help envisioning this cushion in your space? Inquire about our design and styling consultations.