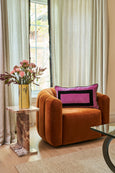 DARLA
$245.00 USD
When Darla and her sister, Dora, were children, they weren't close. They argued over the styling of their Barbies, whether or not there was an edge of the universe, and debated whom their family dog preferred. However, as they grew up, the sisters realized they actually had much more in common than it seemed. After university they moved in together, and adopted a bunny they named Vito. Neither had a specific career direction, so they spent a lot of time together wandering around museums, poring over art books, and going on hours-long city walks while talking & smoking. It was on one of these strolls that their jewelry company was born. They had always casually pursued it as a hobby, and had taken several weekend workshops, but decided to try in earnest. They drew inspiration from everywhere, but especially focused on Art Deco motifs and architecture. It has only been a short while, but the sisters are floored by the response. They're being featured in Vogue next month, and have insisted that Vito be included the photo.
Darla's Details 
Dimensions: 26 inches x 15 inches
Composition: orchid velvet framed with black velvet ribbon, the edges piped with juniper textured cotton blend, the orchid velvet continued on the reverse. Metal zipper.
Care Instructions: dry clean only
HAND MADE IN TORONTO                                                                                         
Please note this cushion is sold with a custom made vegan hypoallergenic insert. If you would prefer a down insert, please get in touch.   
Need help envisioning this cushion in your space? Inquire about our design and styling consultations.