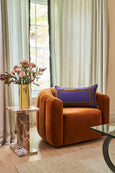 DORA
$267.00 USD
Dora absolutely loves the life she is building with her sister, Darla. She is thrilled with the success of their fledgling jewelry company, RADA, and adores the apartment they share with their bunny, Vito. While the sisters have always loved a party, they've started hosting themed nights with their wildly colourful and always game circle of friends. The last theme was 'Villians Throughout History' (real or fictional). Dora dressed as Marv from Home Alone and Darla as Annie Wilkes from Misery.
Dora's Details
Dimensions: 26 inches x 15 inches
Composition: deep violet silk blend with subtle tonal squares framed with a bark velvet ribbon, the edges finely piped with chartreuse satin blend, the deep violet continued on the reverse. Metal zipper.
Care Instructions: dry clean only
HAND MADE IN TORONTO                                                                                         
Please note this cushion is sold with a custom made vegan hypoallergenic insert. If you would prefer a down insert, please get in touch.   
Need help envisioning this cushion in your space? Inquire about our design and styling consultations.