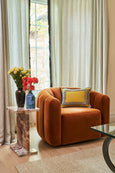 EATON
$207.00 USD
Eaton tells everyone his favourite movie is Citizen Kane, but it's actually Sleepless in Seattle. He even named his dog Howard as a tribute, but never really tells anyone why.

Eaton's Details 
Dimensions: 18 inches x 14 inches
Composition: old gold raw silk framed with intricately woven trim, the edges finished with light blue velvet piping, with light blue velvet continued on the reverse. Metal zipper.
Care Instructions: dry clean only
HAND MADE IN TORONTO                                                                                         
Please note this cushion is sold with a custom made vegan hypoallergenic insert. If you would prefer a down insert, please get in touch.   
Need help envisioning this cushion in your space? Inquire about our design and styling consultations.