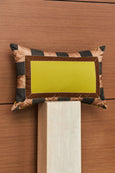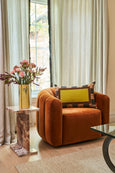 ELMORE
$275.00 USD
Soon after moving to Los Angeles for school, Elmore, a future architect, and his brother, Emmet, shared an elevator with elaborately- costumed party guests. They were immediately intrigued, and followed the strangers to the apartment of Dora & Darla, sisters who lived two floors above them. The kind, somewhat guileless brothers couldn't believe the world they had entered. The party's theme that evening was Dionysus, and they had never experienced anything like it. Ever since, both Elmore and his brother linger by the mailboxes, hoping to run in to one of the entrancing sisters, yearning for an invite to their next party. Elmore is even saving up to buy one of Dora & Darla's signet rings; a stunning design based on the Empire State Building.

Elmore's Details 
Dimensions: 25 inches x 17 inches
Composition: chartreuse cotton framed with bark velvet ribbon and wide black and bronze striped silk with a chartreuse satin blend reverse. Metal zipper.
Care Instructions: dry clean only
HAND MADE IN TORONTO                                                                                         
Please note this cushion is sold with a custom made vegan hypoallergenic insert. If you would prefer a down insert, please get in touch.   
Need help envisioning this cushion in your space? Inquire about our design and styling consultations.