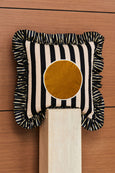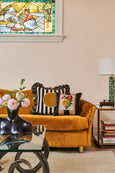 ELSA (sold out)
$264.00 USD
Elsa is dramatic, moody, acerbic and completely fabulous. She is only content when she's the centre of attention and does not suffer fools gladly. She flits from job to job, and none of her friends really know how she earns a living. No one questions her, though - they know she'll just lie or be livid they asked. She recently tripped and chipped her front tooth. In true Elsa fashion, she insists it was intentional and thinks it's incredibly chic. Her friends find it hard to admit, but she's right.


Elsa's Details 
Dimensions: 20 inches x 20 inches (excluding ruffle)
Composition: black and toasted oat striped cotton applied with an ochre velvet circle, the circle trimmed with a white rope. The edges finished with a metallic gold and black silk ruffle. Black and toasted oat striped cotton continued on the reverse. Metal zipper.
Care Instructions: dry clean only
HAND MADE IN TORONTO                                                                                         
Please note this cushion is sold with a custom made vegan hypoallergenic insert. If you would prefer a down insert, please get in touch.   
Need help envisioning this cushion in your space? Inquire about our design and styling consultations.