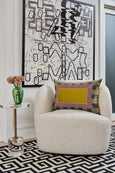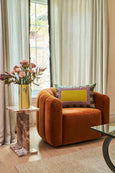 EMMET
$275.00 USD
Emmet moved to Los Angeles with his brother, Elmore, to continue his studies in sports medicine. A lifelong and nationally-recognized rower, Emmet is the more disciplined and practical of the two. He was initially skeptical when Elmore insisted they attend the themed parties hosted by their neighbours, Dora and Darla. However, after one visit he was completely entranced. He loved the sisters' zaniness, their friends, their bunny, Vito - everything. Emmet is eagerly anticipating the next theme night - 'Heroes Throughout History' (as a follow up to their 'Villain' party), and he's thinking of dressing as Superman. Elmore says it's too literal, so he's reconsidering. Perhaps he'll go as Vito.



Emmet's Details 
Dimensions: 25 inches x 17 inches
Composition: chartreuse cotton framed with antique mauve velvet ribbon and sage tonal striped satin blend with a chartreuse satin blend reverse. Metal zipper.
Care Instructions: dry clean only
HAND MADE IN TORONTO                                                                                         
Please note this cushion is sold with a custom made vegan hypoallergenic insert. If you would prefer a down insert, please get in touch.   
Need help envisioning this cushion in your space? Inquire about our design and styling consultations.