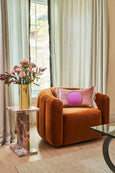 GEORGETTE
$241.00 USD
Georgette has a great sense of humour, is strikingly beautiful and thinks multitasking is grossly overrated. She lives in a house with five other women, and their cats Martin and Edith. They are self- professed party girls, and typically go out six nights a week. On their night off, they stay home, order their favourite takeout and recount the funniest stories of the week. Last week Georgette was laughing so hard she almost couldn't get through a story about losing her shoe in a crowded dance bar.

Georgette's Details 
Dimensions: 22 inches x 14 inches
Composition: dusty rose velvet applied with an orchid linen trimmed with metallic gold cord, the edges finished with cream bullion, the orchid linen continued on the reverse. Metal zipper.
Care Instructions: dry clean only
HAND MADE IN TORONTO                                                                                         
Please note this cushion is sold with a custom made vegan hypoallergenic insert. If you would prefer a down insert, please get in touch.   
Need help envisioning this cushion in your space? Inquire about our design and styling consultations.