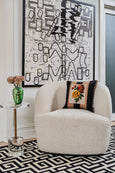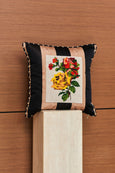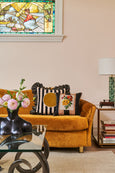 HOLLACE | antique textile collection (sold out)
$233.00 USD
Growing up as the son of a diplomat, Hollace found himself at many functions - some fun, others terribly dull. However, they did expose him to a variety of incredible music, which is how he fell in love with jazz. He became completely obsessed and listened to anything he could get his hands on, from Miles Davis to Django Reinhardt. He pursued trumpet lessons and practised diligently throughout his teenage years. Hollace formed a quartet with some friends, and they eventually opened a jazz club where they play every Friday night. It has become a neighbourhood favourite, lined with red velvet booths and its lacquered camel-coloured walls hung with eccentric musical ephemera. 



Hollace's Details 
Dimensions: 16 inches x 16 inches
Composition: wide black and bronze striped silk applied with an antique rose needlepoint. The edges finished with a metallic gold and black striped silk which is continued on the reverse. Metal zipper.
Care Instructions: dry clean only
HAND MADE IN TORONTO                                                                                         
Please note this cushion is sold with a custom made vegan hypoallergenic insert. If you would prefer a down insert, please get in touch.   
Need help envisioning this cushion in your space? Inquire about our design and styling consultations.