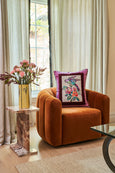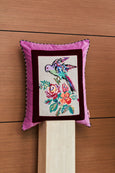 HORATIO | antique textile collection
$286.00 USD
Horatio owns a bookstore that specializes in rare books and manuscripts. He recently came upon a first edition of Mr. Norris Changes Trains and he's thinking of keeping it for himself.

Horatio's Details 
Dimensions: 26 inches x 21 inches
Composition: a vintage parrot & rose needlepoint surrounded by a wide merlot velvet ribbon and orchid velvet, the edges finished with metallic gold and black silk piping, with a multicoloured ribbon-striped satin blend reverse. Metal zipper.
Care Instructions: dry clean only
HAND MADE IN TORONTO                                                                                         
Please note this cushion is sold with a custom made vegan hypoallergenic insert. If you would prefer a down insert, please get in touch.   
Need help envisioning this cushion in your space? Inquire about our design and styling consultations.