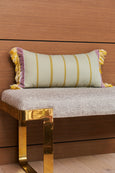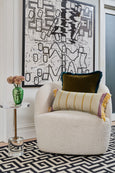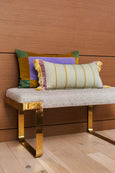 IDALIA
$241.00 USD
Idalia has a memory like a steal trap. She remembers her childhood friends' phone numbers, the coffee orders of all her colleagues, and can identify all the flags of the world. People are always surprised that she gets lost frequently.

Idalia's Details 
Dimensions: 24 inches x 12 inches
Composition: finely textured Wythe blue and ochre stripes, the edges finished with antique mauve velvet ribbon and antique yellow and cream satin brush with a lemondrop silk reverse. Metal zipper.
Care Instructions: dry clean only
HAND MADE IN TORONTO                                                                                         
Please note this cushion is sold with a custom made vegan hypoallergenic insert. If you would prefer a down insert, please get in touch.   
Need help envisioning this cushion in your space? Inquire about our design and styling consultations.