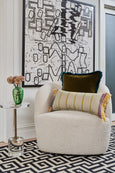 LUCIEN
$226.00 USD
Lucien recently inherited his grandmother's extensive collection of souvenir spoons. His favourites are from Gibraltar and Niagara Falls. He has absolutely no idea what to do with them.

Lucien's Details 
Dimensions: 20 inches x 20 inches
Composition: olive velvet trimmed with teal brush, with an old gold raw silk reverse. Metal zipper.
Care Instructions: dry clean only
HAND MADE IN TORONTO                                                                                         
Please note this cushion is sold with a custom made vegan hypoallergenic insert. If you would prefer a down insert, please get in touch.   
Need help envisioning this cushion in your space? Inquire about our design and styling consultations.