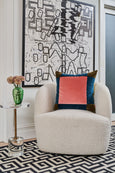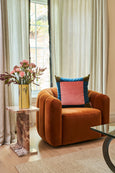 MINKA
$275.00 USD
Minka is writing her PhD dissertation on The Real Housewives franchise. Her arguments will astound you.

Minka's Details 
Dimensions: 22 inches x 22 inches
Composition: rosewood velvet framed with panels of teal velvet and antique golden olive velvet corner accents with a moss cotton reverse. Metal zipper.
Care Instructions: dry clean only
HAND MADE IN TORONTO                                                                                         
Please note this cushion is sold with a custom made vegan hypoallergenic insert. If you would prefer a down insert, please get in touch.   
Need help envisioning this cushion in your space? Inquire about our design and styling consultations.