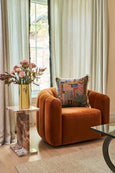 QUENTIN
$226.00 USD
Quentin is a highly sought after paint and plaster master. He restores buildings and frescoes, and has honed his techniques so meticulously that his work disappears, leaving only the original majesty of the space. He loathes waste and believes everything ought to be built to last - and repaired when necessary. He has had the same pair of shoes for forty years and they have been resoled eight times.

Quentin's Details 
Dimensions: 20 inches x 20 inches
Composition: vintage Collier Campbell 'Côte d'Azur' cotton, the edges finished with thin chocolate velvet ribbon and cream satin brush, with a sage tonal striped satin blend reverse. Metal zipper.
Care Instructions: dry clean only
HAND MADE IN TORONTO                                                                                         
Please note this cushion is sold with a custom made vegan hypoallergenic insert. If you would prefer a down insert, please get in touch.   
Need help envisioning this cushion in your space? Inquire about our design and styling consultations.