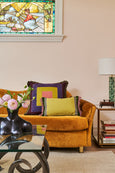 ROSETTA
$222.00 USD
Rosetta is a talented gardener and landscape designer whose work is evocative of Andy Goldsworthy. She is very passionate about her craft, and hosts monthly workshops on sustainable practices for home gardens that are always sold out months in advance. When she's in her garden Rosetta maintains a classic wardrobe of dungarees and wellies, the former of which she loves to hand paint. So many people requested their own pair that she's started a line called Dungarose. They're selling wildly and Rosetta has donated all the profits to environmental causes. She's pleased as punch.
Rosetta's Details 
Dimensions: 22 inches x 14 inches 
Composition: textured citron blend, the edges finished with embroidered geometric ribbon, olive velvet ribbon and rose bullion, with a moss linen reverse. Metal zipper.
Care Instructions: dry clean only
HAND MADE IN TORONTO                                                                                         
Please note this cushion is sold with a custom made vegan hypoallergenic insert. If you would prefer a down insert, please get in touch.   
Need help envisioning this cushion in your space? Inquire about our design and styling consultations.