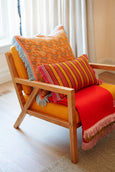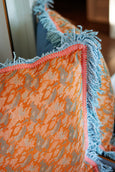 ALBERT (sold out)
$325.00 CAD
Oh, Albert! He is so kind and warm and generous. Beloved by his friends and his longtime love Steve alike, Albert is the friend who is always in your corner. He is an acclaimed art dealer known for his impeccable taste, and is also on the board of the LACMA, using his skills and connections to better his community whenever possible. He has been integral in revitalizing struggling pockets of LA and is a longstanding volunteer at several charities. Every year he and Steve host a massive Christmas tree lighting party at their Los Feliz home, a night that's infamous for its rum-heavy eggnog and silent auction. While guests flock to see the stunning home, the real draw is the pack of rescue dogs that lives there. Several times a year Albert turns up with a new companion, and while Steve rolls his eyes in feigned exasperation, he secretly delights in it, and loves Albert for his huge and ever-expanding heart. 
Albert's Details 
Dimensions: 22 inches x 22 inches 
Composition: 1970s remnant orange ground cloud brocade with a sky blue velvet reverse, trimmed with cotton ribbon and sky blue bullion. Metal zipper.  
Care Instructions: dry clean only
HAND MADE IN TORONTO                                                                                         
Please note that cushions are sold with a custom made down filler. If you would prefer a hypoallergenic alternative, please get in touch.   
Need help envisioning this cushion in your space? Inquire about our design and styling consultations.