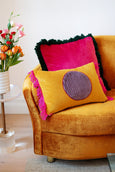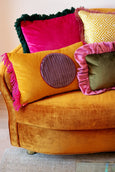 AMAL (sold out)
$295.00 CAD
Amal is a force. She is strikingly beautiful, with a gap in her front teeth and a loud laugh. People can't help but be drawn to her. She's intelligent, humble and has great taste. The daughters of a banker turned diplomat, Amal and her older sister Beatrice grew up internationally, never in one place long enough to make close friends, but were always able to appreciate and learn from the culture. Because of their frequent moves, Amal and Beatrice grew to be inseparable, and fiercely protective of each other. They still live together in a lovely flat in Notting Hill, and until recently also worked together at MI5. Amal's abrupt departure still has people talking, many presuming she had uncovered a file she shouldn't have. Amal wasn't fussed, though. She turned a hobby into a career, and now works as a sommelier and wine importer – but is not a snob about it.
Amal's Details 
Dimensions: 22 inches x 14 inches
Composition: ochre velvet, smoky purple striped velvet, ochre cotton waffle reverse, with red and blue chevron trim, edges with hot pink bullion. Metal zipper.
Care Instructions: dry clean only
HAND MADE IN TORONTO                                                                                         
Please note that cushions are sold with a custom made down filler. If you would prefer a hypoallergenic alternative, please get in touch.   
Need help envisioning this cushion in your space? Inquire about our design and styling consultations.