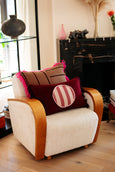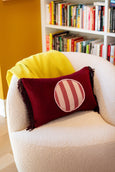 BEATRICE (sold out - other colourways available)
$295.00 CAD
Beatrice is a bit of a hard nut to crack. She works as an analyst for MI5, and by extension is rather secretive. She grew up moving constantly, and to this day really only trusts her sister, Amal, whom she lives with in Notting Hill. They live a contented and very familiar life, shaped by their early instincts and propensities. Beatrice is an organized list maker who irons her sheets, buys her Christmas gifts months in advance and collects hotel matchbooks, while Amal is abhorrently messy and delights in chaos. Despite their differences, the sisters thrive as a pair. They share a pet lizard, Harry (who has his own Instagram account), and eat dinner together almost every evening – mostly takeout. They escape London whenever possible, usually on a biking wine tour in Italy or France. Beatrice is in charge of directions, and Amal decides on the vineyard.
Beatrice's Details 
Dimensions: 22 inches x 14 inches
Composition: cabernet boiled wool, dusty pink striped cotton blend, light pink rope trim and plum bullion. Metal zipper.
Care Instructions: dry clean only
HAND MADE IN TORONTO                                                                                         
Please note that cushions are sold with a custom made down filler. If you would prefer a hypoallergenic alternative, please get in touch.   
Need help envisioning this cushion in your space? Inquire about our design and styling consultations.