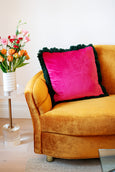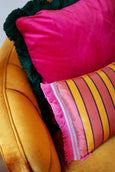 BERTRAND (sold out)
$295.00 CAD
Bertrand, or Beanie to his closest friends, is gentle, thoughtful and very funny. He loves chamber music, whittling, and researching family crests and tartans. In his earlier years he was a dazzling Gilbert and Sullivan performer, appearing in over a hundred productions during his career. He now leads a quieter life as the owner of a small antique shop, which was passed down to him by his dear aunt Lou. However, he has not completely abandoned his theatrical life. He holds the role of Creative Director of his local church, causing quite the stir when he cast a woman as Joseph in last year's nativity play.  
Bertrand's Details 
Dimensions: 22 inches x 22 inches 
Composition: raspberry velvet, gold velvet, trimmed with forest green cotton brush. Metal zipper.
Care Instructions: dry clean only
HAND MADE IN TORONTO                                                                                         
Please note that cushions are sold with a custom made down filler. If you would prefer a hypoallergenic alternative, please get in touch.   
Need help envisioning this cushion in your space? Inquire about our design and styling consultations.