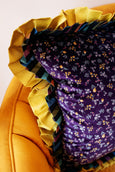 CECILIA (sale) | WAS $325.00 (sold out)
$220.00 CAD
Cecilia, the eldest sister in Agnes and Bonnie's family, grew up with a profound sense of responsibility. She looked out for her four younger sisters, and often cared for them while her parents worked. Cecilia's favourite escape was building model airplanes and ships, a hobby that developed her dexterity and honed her great attention to small details. Perhaps this is what led her into dentistry. She has become an accomplished and sought after professional, so nimble and gentle that people often don't realize their filling is complete.
Cecilia's Details 
Dimensions: 21 inches x 21 inches (excluding 3.5 inch ruffle)
Composition: midnight purple floral velvet, silk-satin yellow ruffle overlaid with a waxed cotton striped ruffle. Metal zipper.
Care Instructions: dry clean only
HAND MADE IN TORONTO                                                                                         

Please note that cushions are sold with a custom made down filler. If you would prefer a hypoallergenic alternative, please get in touch.   
Need help envisioning this cushion in your space? Inquire about our design and styling consultations.