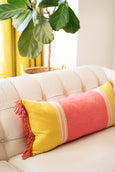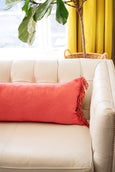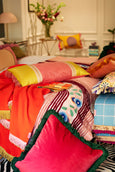 CLAUDETTE (sold out)
$370.00 CAD
Claudette never has a hair out of place or a run in her stockings. She's a stern, yet admired, elementary school French teacher whose briskly clicking heels announce her presence from down the hallway. She's elegant and wise, poised and professional. To the surprise of some, Claudette also has her black belt in karate. There are many school legends involving this skill and an encounter with a potential mugger, but no one really knows the details. And while she's disciplined and somewhat earnest through the week, Claudette and her close colleagues have a longstanding Friday night tradition of a poker game, whiskey and cigarettes that's full of laughter and great stories.
Claudette's Details 
Dimensions: 32 inches x 14 inches
Composition: textured floral cotton, yellow striped silk blend, with wide vintage French ribbon, trimmed with gold cotton brush and rose bullion. Metal zipper.
Care Instructions: dry clean only
HAND MADE IN TORONTO                                                                                         
Please note that cushions are sold with a down filler. If you would prefer a hypoallergenic alternative, please get in touch.   
Need help envisioning this cushion in your space? Inquire about our design and styling consultations.