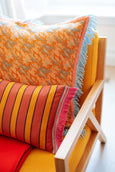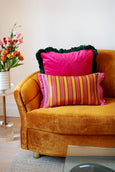 CLIVE (sold out)
$270.00 CAD
Clive can never find his glasses, so he wears them around his neck on a beaded chain. While he loathes such practicalities, he adapts them to suit his tastes: when instructed by his podiatrist to wear Birkenstocks, he purchased the flashiest pair of patent leather ones he could find, and only wears them with patterned socks. He delights in this sort of contrariness. When he won a contest for growing the largest beet in his town, he immediately took a huge bite out of it.
Clive's Details 
Dimensions: 20.5 inches x 12 inches 
Composition: striped silk front with a cotton/linen marigold reverse, trimmed with French cotton ribbon and bubblegum pink cotton brush. Metal zipper.
Care Instructions: dry clean only
HAND MADE IN TORONTO                                                                                         
Please note that cushions are sold with a custom made down filler. If you would prefer a hypoallergenic alternative, please get in touch.   
Need help envisioning this cushion in your space? Inquire about our design and styling consultations.