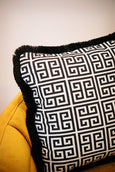 CECIL (sold out)
$295.00 CAD
Cecil had rough beginnings, but was able to escape through his wildly successful childhood tap dancing career. Although he rarely revisits that time in his life, at some parties his friends and a few dirty martinis can spur a spontaneous performance. He has always worked hard to better himself and takes nothing for granted, often forgoing sleep for new experiences. When he's not overseeing the activity at his bustling restaurant, he can be found tending to his hundreds of rare and prized orchids.
Cecil's Details 
Dimensions: 22 inches x 22 inches 
Composition: cotton blend front and velvet reverse, with cotton brush trim. Metal zipper.
Care Instructions: dry clean only
 HAND MADE IN TORONTO                                                                                         
Please note that cushions are sold with a down filler. If you would prefer a hypoallergenic alternative, please get in touch.  
Need help envisioning this cushion in your space? Inquire about our design and styling consultations.