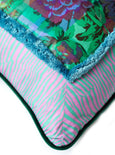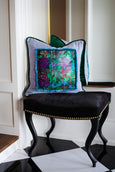 GLORIA (sold out)
$245.00 USD
People flock to Gloria's sunrise yoga class on the Malibu shore, which is always followed by her homemade kombucha. While she is now dedicated to a holistic lifestyle for herself and her family, her oldest friend, Bianca, holds the secrets of their wild club days in LA. The only evidence remaining is their matching lower back tattoo of a blue morpho butterfly. Gloria is proud to have grown into an astute and innovative entrepreneur, however her dreamy absentmindedness remains; at least once a week she forgets where she parked her car.
Gloria's Details 
Dimensions: 20 inches x 20 inches 
Composition: velvet, waxed cotton and cotton with brush trim. Metal zipper. 
Care Instructions: dry clean only
 HAND MADE IN TORONTO                                                                                         
Please note that cushions are sold with a down filler. If you would prefer a hypoallergenic alternative, please get in touch.  
Need help envisioning this cushion in your space? Inquire about our design and styling consultations.