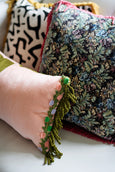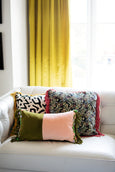 OPHELIA (sold out)
$240.00 CAD
She's pale! She's beautiful! She has a lisp! She's a bit flaky! She's Ophelia! Born on her family's farm and raised with five wild and protective brothers, Ophelia grew up surrounded by nature and love. She fell in love with the many animals her family raised and cared for, forming strong bonds with cats and donkeys alike. These friendships eventually formed the basis of Ophelia's first children's book, Maude and Henry, a story about the adventures of a cow and a mouse. The book was so popular that she decided to continue the series, having just completed Maude and Henry Lost on the Nile.
Ophelia's Details 
Dimensions: 20 inches x 12 inches
Composition: velvet, cotton rose trim, satin bullion trim. Metal zipper.
Care Instructions: dry clean only
 HAND MADE IN TORONTO                                                                                         
Please note that cushions are sold with a down filler. If you would prefer a hypoallergenic alternative, please get in touch.  
Need help envisioning this cushion in your space? Inquire about our design and styling consultations.