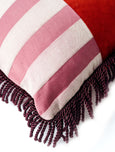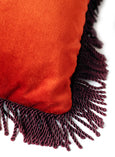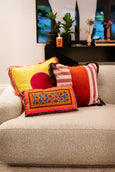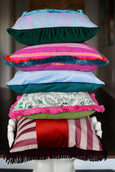 VERMUST (sold out)
$250.00 CAD
Growing up in Avellino, Vermust spent many blissful hours of his childhood helping harvest Fiano grapes on his grandfather's vineyard. This taught him the values of patience and attentiveness, as well as a keen sensitivity to nature and its rhythms. Later in life these same skills have proved useful in Vermust's sailing career, a passion that has brought him around the world. Most recently he captained a 47-foot Beneteau from Maui to Tasmania, a voyage during which he fell madly in love with his first mate. They married as soon as they reached land. 
Vermust's Details 
Dimensions: 20 inches x 20 inches 
Composition: combed cotton and velvet blend front and combed velvet reverse with satin bullion trim. Metal zipper. PLEASE NOTE there are small imperfections in the velvet as it was remnant, but we loved the colour too much! 
Care Instructions: dry clean only
 HAND MADE IN TORONTO                                                                                         

Please note that cushions are sold with a down filler. If you would prefer a hypoallergenic alternative, please get in touch.  
Need help envisioning this cushion in your space? Inquire about our design and styling consultations.