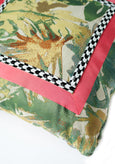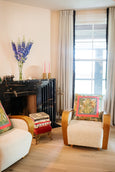 LAWRENCE (sold out)
$325.00 CAD
Doughy but dapper, fastidious but fun, Lawrence is full of wonderful contradictions. He began his career as a flight steward, winning passengers over with his self-deprecating and bawdy humour. However, he was forced into early retirement due to an unfortunate incident involving a rude actor and an "accidentally" spilled scotch and soda. He now passes his days comfortably in Boca, working diligently as a wallpaper hanger and doting upon his white Persians, Fred and Ginger. Known for his love of rattan and off-track wagering, Lawrence is most recognized for hosting a weekly themed potluck where all costumed guests aim to outdo one another.
Lawrence's Details 
Dimensions: 21 inches x 21 inches 
Composition: cotton/poly blend, with glass beaded and gros grain trim. Metal zipper. 
Care Instructions: dry clean only
 HAND MADE IN TORONTO                                                                                         
Please note that cushions are sold with a down filler. If you would prefer a hypoallergenic alternative, please get in touch.  

Need help envisioning this cushion in your space? Inquire about our design and styling consultations.