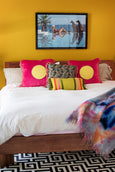 CLEO (sale) | WAS $325.00
$280.00 CAD
Bright, bold, intelligent and charismatic, Cleo isn't afraid to stand out from the crowd. She is gregarious and animated, forever rushing from one social engagement to the next. However, she actually considers herself an introvert, and relishes time dressed down in old jeans, curled up with her cat Steve and a glass of red, deeply engrossed in a Danielle Steele novel. But don't tell anyone.
Cleo's Details 
Dimensions: 22 inches x 22 inches 
Composition: combed velvet, satin, braided rope trim. Metal zipper.
Care Instructions: dry clean only
 HAND MADE IN TORONTO                                                                                         
Please note that cushions are sold with a down filler. If you would prefer a hypoallergenic alternative, please get in touch.  
Need help envisioning this cushion in your space? Inquire about our design and styling consultations.