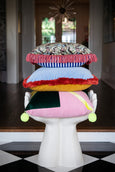 TOBY (sold out)
$295.00 CAD
Toby, Frank's eternally optimistic and jovial brother, shares his sibling's love of comedy and fly fishing. They grew up in suburban Chicago in a comfortable bungalow, often transforming their shared bedroom into a fort. Plastered with baseball posters and laid with orange shag carpet, their bedroom became their first comedy club, the museum to showcase their feather collection and their favourite spot to sneak beers. The two have remained close through the years, so much so that they still live next door to each other.
Toby's Details 
Dimensions: 22 inches x 22 inches 
Composition: velvet with cotton brush trim. Metal zipper. 
Care Instructions: dry clean only
 HAND MADE IN TORONTO                                                                                         
Please note that cushions are sold with a down filler. If you would prefer a hypoallergenic alternative, please get in touch.  
Need help envisioning this cushion in your space? Inquire about our design and styling consultations.