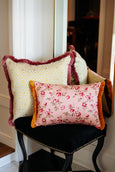 DOMINIQUE (sold out)
$270.00 CAD
Dominique is analytical, honest, understated and very calm. These traits serve her well as Vienna's most sought after divorce attorney. She works diligently to ensure a fair outcome, and is a fierce opponent if she senses even a hint of injustice. She is a very quick read of people, and excels at games of strategy – especially chess. She has the tendency to overthink, and some find her a bit obsessive, but she is quite content as she is. Perhaps owing to her professional experiences, Dominique is happily single and loves leading a completely independent life, never having to "check in" or compromise. She travels extensively, and particularly enjoys trying new cuisines. Her true passion lies in cooking, and she produces an anonymous blog where she replicates famous dishes she has tried on her travels and at her favourite restaurants. In fact, she has a deal in the works for her first cookbook that will be published under the name Cookie Prentice.
Dominique's Details 
Dimensions: 20.5 inches x 14.5 inches
Composition: gold and cream cotton blend, with a cotton rose reverse, trimmed with crimson velvet ribbon, and double brush cotton edge. Metal zipper.
Care Instructions: dry clean only
HAND MADE IN TORONTO                                                                                         
Please note that cushions are sold with a custom made down filler. If you would prefer a hypoallergenic alternative, please get in touch.   
Need help envisioning this cushion in your space? Inquire about our design and styling consultations.