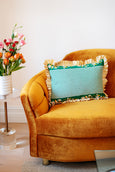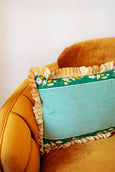 DOROTHY (sale) | WAS $295.00
$150.00 CAD
People swoon over Dorothy's home in Savannah, Georgia. It is lovingly and meticulously maintained, with original stained glass windows, gleaming and intricately carved staircases, and lush gardens. Dorothy hosts fabulous parties at her grand home, inviting local celebrities and people she charms at the grocery store alike. It is always an eclectic and lively group, and the night never ends until dawn, usually with a catered pancake breakfast. While she maintains a warm and festive atmosphere, the origins of her home are rather mysterious. There are local legends surrounding the property, and Dorothy herself inherited it from an eccentric estranged uncle. At least once a year she finds an old cigar box or matchbook hidden in the potting shed or in a floor grate with a note or clue from her reclusive and elusive uncle Sid.
Dorothy's Details 
Dimensions: 21 inches x 15 inches (excluding 2 inch ruffle)
Composition: vintage striped cotton textile, trimmed with a yellow and white striped silk ruffle. Metal zipper.
Care Instructions: dry clean only
HAND MADE IN TORONTO                                                                                         
Please note that cushions are sold with a custom made down filler. If you would prefer a hypoallergenic alternative, please get in touch.   
Need help envisioning this cushion in your space? Inquire about our design and styling consultations.