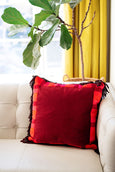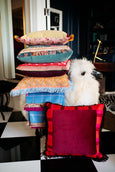 EMILIO (sold out)
$325.00 CAD
Emilio is a broad, strong, curly-haired Argentine chef who wears several silver rings on his thick fingers. He is warm and kind, but there is always an air of danger when he's in the room. Some would say he's unpredictable, but he considers himself spontaneous. He is never without his Mother of Pearl inlaid pocketknife, a beloved possession that was a gift from his grandfather. (He swears he has never used it.) When he's not at his famed restaurant in Buenos Aires' Palermo neighbourhood, he's often on his motorcycle, hurtling towards a new destination – sometimes seeking solitude in Patagonia, other times a party in Punta del Este.
Emilio's Details 
Dimensions: 21 inches x 21 inches 
Composition: burgundy velvet centre surrounded by striped plum, vermillion, hot pink and ginger velvet, with a plum linen blend reverse, trimmed with plum bullion. Metal zipper.
Care Instructions: dry clean only
HAND MADE IN TORONTO                                                                                         
Please note that cushions are sold with a custom made down filler. If you would prefer a hypoallergenic alternative, please get in touch.