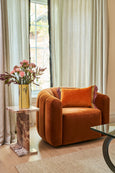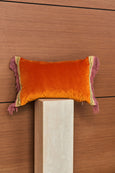 FREDERICO
$320.00 CAD
Frederico's friends often describe him as "fabulously eccentric". He speaks rapidly, never closes cupboard doors or replaces lids, and has several pet birds that fly freely though his house. He loves mixing patterns and colours in both his wardrobe and home, and refuses to plan any social engagements more than a week in advance. While some aspects of his personal life may appear erratic or chaotic, Frederico's work is meticulous. He is a cherished cobbler - a skill he learned from his uncle who recognized early on that Frederico needed an outlet for his incredible energy. His studio is below his flat at the end of a leafy lane, and clients travel from across the city to see "Dr. Shoe". His studio is as colourful as his home, and the walls are dotted with photos of Frederico and his beloved clients. There's even one of him and Sarah Jessica Parker.

Frederico's Details 
Dimensions: 22 inches x 14 inches
Composition: marmalade velvet, the edges finished with ornately woven metallic gold trim, vintage orange and white soutache and rose bullion, with a plum cotton reverse. Metal zipper.
Care Instructions: dry clean only
HAND MADE IN TORONTO                                                                                         
Please note this cushion is sold with a custom made vegan hypoallergenic insert. If you would prefer a down insert, please get in touch.   
Need help envisioning this cushion in your space? Inquire about our design and styling consultations.