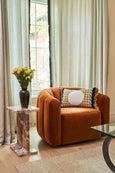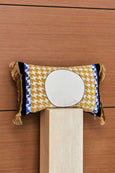 GEORGE
$320.00 CAD
George is often described as 'colourful' and 'temperamental', and he's fine with both descriptors. He owns a cozy pub that is frequented by a regular crowd, including his dear friend, Fitzroy, who is always accompanied by his Corgi, Dickens. While George will not tolerate nonsense - going so far as hanging a 'NO SCOUNDRELS ALLOWED' sign in his bar - he is actually a very generous and gentle man. He wears a vest behind the bar, which is themed on holidays (he especially loves his Valentine's hearts vest), he always over-pours & serves complimentary snacks, and he hosts regular poker nights that benefit local charities. Patrons especially love how George dotes on Dickens, and adore that there's a menu item named after the Corgi: a smoked salmon & cream cheese sandwich inspired by the Queen.



George's Details 
Dimensions: 22 inches x 14 inches
Composition: jumbo textured velvet houndstooth applied with a white linen circle trimmed with blue, black & white satin cord, the edges finished with vintage blue and white geometric ribbon, black velvet ribbon and fine antique gold satin brush trim, with a black cotton canvas reverse. Metal zipper.
Care Instructions: dry clean only
HAND MADE IN TORONTO                                                                                         
Please note this cushion is sold with a custom made vegan hypoallergenic insert. If you would prefer a down insert, please get in touch.   
Need help envisioning this cushion in your space? Inquire about our design and styling consultations.