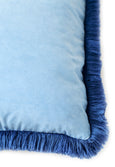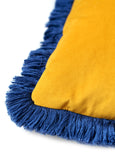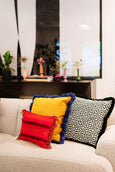 FRANK (sold out - other colourways available)
$295.00 CAD
Frank is kind and understated, and has had a moustache since the 1970s. His ideal dinner party would consist of the following ten people: his brother Toby, Houdini, Julia Louis-Dreyfus, Willie Mays, John Candy, his wife Ellen, Frida Kahlo, Ricky Gervais, David Attenborough and Mats Sundin.
Frank's Details 
Dimensions: 22 inches x 22 inches 
Composition: velvet with cotton brush trim. Metal zipper. 
Care Instructions: dry clean only
 HAND MADE IN TORONTO                                                                                         
Please note that cushions are sold with a down filler. If you would prefer a hypoallergenic alternative, please get in touch.  

Need help envisioning this cushion in your space? Inquire about our design and styling consultations.