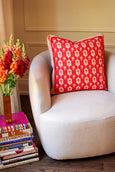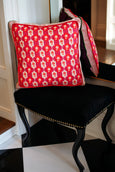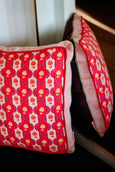 GRETCHEN (sale) | WAS $325.00 (sold out)
$125.00 CAD
Gretchen was raised on meat and potatoes, Patsy Cline, and Cheers. Her family life was chaotic and could be unstable, but she was always surrounded by love. She didn't exactly take to school, preferring to explore the woods that were on the outskirts of her town. It was here that she received her true education. She taught herself about plants, the migration routes of animals, and how to tell time based on the sun. This eventually developed into a career for Gretchen, and she founded an outdoor education centre for kids, exposing them to the beauty and lessons of the natural world. When her students come in for lunch, Gretchen always has reruns of Cheers playing in the cafeteria.
Gretchen's Details 
Dimensions: 20.5 inches x 20.5 inches
Composition: rose print cotton trimmed by poppy red rope and surrounded by a dusty pink velvet frame, the reverse a plum linen blend, and piped with apple green silk. Metal zipper.
Care Instructions: dry clean only
HAND MADE IN TORONTO                                                                                         
Please note that cushions are sold with a custom made down filler. If you would prefer a hypoallergenic alternative, please get in touch.   
Need help envisioning this cushion in your space? Inquire about our design and styling consultations.