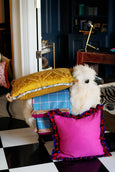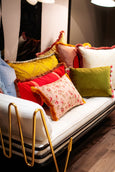 HAROLD (sale) | WAS $360.00 (sold out)
$280.00 CAD
Harold is a Haligonian. He is the proprietor of a used bookshop that is somewhat disorganized, but always seems to have exactly what you're looking for. He has bushy eyebrows that are always knotted together in thought, a dry sense of humour, and is good natured and helpful. He shuffles around the shop with perpetually untied shoes, followed closely by his Jack Russell, Simon. Harold and Simon spend their days contentedly at the shop, but always look forward to 5:30pm when they walk home, just around the corner, to their beloved Pam who hugs them both and has supper waiting.
Harold's Details 
Dimensions: 30 inches x 18 inches 
Composition: green-gold silk damask, ochre cotton waffle reverse, piped with cotton jacquard and embroidered linen, with cotton tassels at the corners. Metal zipper.  
Care Instructions: dry clean only
HAND MADE IN TORONTO                                                                                         
Please note that cushions are sold with a custom made down filler. If you would prefer a hypoallergenic alternative, please get in touch.   
Need help envisioning this cushion in your space? Inquire about our design and styling consultations.