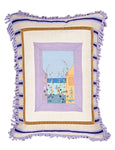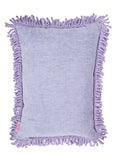 JUDY | antique textile collection
$360.00 CAD
Judy is someone you just want to hug. She is luminous, looks like Sissy Spacek, and her house always smells like fresh bread. Judy has lived a rather remote and solitary life, but has never felt lonely. She loses herself in her garden, dressed in her uniform of dungarees and wellies, pencil in hair, trailed by her dog, Kip. While she was essentially estranged from her brother Claude during his New York years, she was thrilled when he joined her in British Columbia, and purchased the neighbouring property. They meet every day at five o'clock and Claude mixes them a martini - or sometimes a few.
Judy's Details 
Dimensions: 22 inches x 16 inches
Composition: inset panel of antique hand embroidery, surrounded by vintage gold velvet ribbon and striped cotton, trimmed with lavender bullion, the reverse mauve brushed velvet. Metal zipper.
Care Instructions: dry clean only
Condition Note: the textile showcased in this piece is over fifty years old, and as such, may show minor signs of wear. 
HAND MADE IN TORONTO                                                                                         
Please note that cushions are sold with a custom made down filler. If you would prefer a hypoallergenic alternative, please get in touch.   
Need help envisioning this cushion in your space? Inquire about our design and styling consultations.