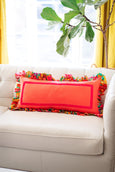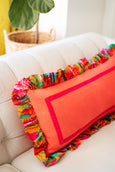 MARTHA (sold out)
$370.00 CAD
Martha loves cable knit sweaters, Georgia O'Keefe and strong coffee. She's an advertising guru, and a much sought-after director of automotive ads. She has filmed in deserts, mountain passes and on the Autobahn. Martha often works closely with her husband, Mick, who is her trusted DOP. People love working with them – not only because they're very skilled, but also because they always bring their dog, Roger, to set. When they're not travelling for work, Martha, Mick and Roger live in New Orleans in an eclectic historic home that's painted the perfect shade of pink. They absolutely love their city – especially the music scene – and spend most weekends out with their friends, taking in bands and Sazerac.
Martha's Details 
Dimensions: 33 inches x 14 inches (excluding ruffle)
Composition: coral boiled wool, with pink velvet ribbon and trimmed with a floral cotton ruffle. Metal zipper.
Care Instructions: dry clean only
HAND MADE IN TORONTO                                                                                         
Please note that cushions are sold with a custom made down filler. If you would prefer a hypoallergenic alternative, please get in touch.   
Need help envisioning this cushion in your space? Inquire about our design and styling consultations.