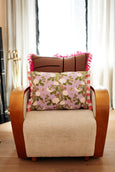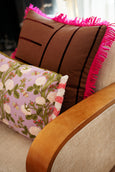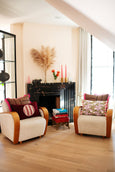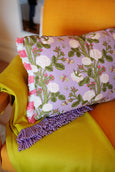 MARY BETH (sale) | WAS $240.00
$150.00 CAD
Mary Beth is somewhat reserved, very organized and a true nurturer. She met her best friend and longtime roommate, Edna, at secretarial college when Mary Beth alerted her classmate that there was spinach in her teeth prior to a presentation. They've trusted each other implicitly since then, and have built a comfortable life together. Mary Beth does most of the cooking – Edna's favourite is her chicken cacciatore – and the pair usually eats while watching Seinfeld. They balance each other well, with Edna's sense of fun and occasional unpredictability adding colour, and Mary Beth's consistency and care providing stability. They delight in the comfort of their routine, including their annual Caribbean cruise, which is always a highlight. It was especially so last year when Edna and Mary Beth were absolutely ecstatic to win fifty thousand dollars at roulette.
Mary Beth's Details 
Dimensions: 21 inches x 16 inches
Composition: vintage remnant Cecil Beaton fabric from the 1960s with an olive green velvet reverse, trimmed at the ends with pink and white cotton brush trim. Metal zipper.
Care Instructions: dry clean only
HAND MADE IN TORONTO                                                                                         
Please note that cushions are sold with a down filler. If you would prefer a hypoallergenic alternative, please get in touch.   
Need help envisioning this cushion in your space? Inquire about our design and styling consultations.